www.hippologi.com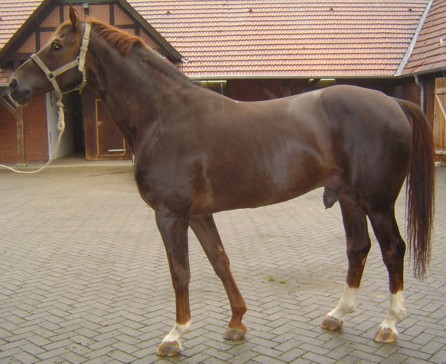 The Beltain-story is one of my favourite stallion stories even though or maybe just because it does carry an ironical, if not tragic moment to it. During his entire lifetime Beltain never gained the recognition and respect amongst the breeder community he should have. Maybe that was due to the fact that – despite his most famous but entirely hannoverian origin – he never got to live within the hannoverian equestrian scene where he surely would have gained the recognition he deserved – in line with his closely related family-fellows such as brentano II, wolkenstein II, brentina, beauvalais etc – horses everybody speaks about. Stationed in westfalia people would barely understand what prestigous damline this sire came from, neither would they fully acknowledge his individual qualities in both, a super performance dressage horse and a great breeding stallion. The ironie lies in the fact that only with the appearance of his son, beautiful Bundeschampion Belissimo on the (westfalian) scene (pictures at the bottom of this page), people all of a sudden were full of respect for beltain and would praise him as what he was: an exceptional stallion. Only that he had already died by then. right: Brentano II age 22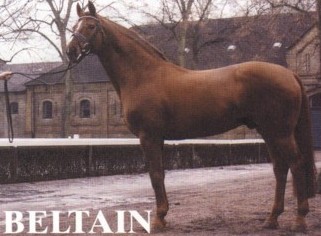 Beltain was owned by the Karsten family, close friends of mine. Beltain is nearly blood-identical to Brentano II, their dams were full sisters. Meaning: he comes from dr. max schulz, a breeder who has been providing the world with record dressage horses and stallions (brentina, beauvalais, brentano I&II, wolkenstein I ,II&III, garibaldi I&II and many many more) they all have one in common:
A very well manfisted exquisit old hannoverian damline, mainly based on combinations of bolero and grande with ferdinand, wendekreis, marcio and duellant-blood.
Beltain was same age with weltmeyer and back then it was beltain who was the pre-spoken winner of their respective licensing for obvious reasons (convincing movement in all three gates a n d the combination of best bloodlines)
Short before the licensing beltain had an accident and needed strong surgeries. It was not clear if he ever would be ridable. Only that was the reason my friends were able to buy him. (and the door was open for Weltmeyer to succeed...)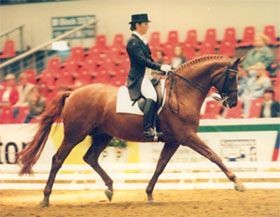 Beltain recovered from his accident and was ridden. He went to petra epping (riders tour finalist 2002 with giselle), rudolf zeilinger and later on jo hinnemann where leonie bramall showed him up to grand prix and he finally got licensed due to his success in sports when he was already 10 or so – which i find most remarkable since in those days you could count those stallions who got licensed for breeding due to their sports performances on a single hand...
He then went to the warendorf statestud as a lease stallion but wasn't highly frequented. Because bolero blood was not well looked at in westfalia (for whatever reasons). It could happen that soemone went to the stud and asked for beltain and people there would recommand a different stallion because "what do you want with this bolero stallion -? don't we have other stallions?" As a matter of fact, a couple of years ago i went to the westfalian verband and asked one of their officials for information on sport-licensed stallions in general, beltain specifically, since i was going to write a report about sport licensed stallions for a local magazin. The answer was: beltain? Why would you want to write about him? He hasn't done any good yet and there are other stallions in warendorf that deserve a report much better." above: Beltain and Leonie Bramall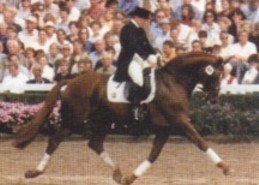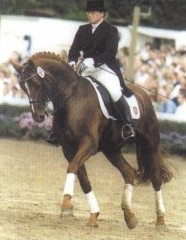 Blame it all to westfalian ignorance and pure lack of knowledge about what this respective bloodline had already done in hannover. Consequently, the main mares beltain got were the ones of my friends (all of hannoverian origin) and people somehow related to them.
I had a few chances to get to ride beltain myself those days and hadn't i already been convinced by his offspring (the ones i knew from our local area) – his riding abilities and the way he made me feel in the saddle would have convinced me right away. He was the "teaching"horse everyone is dreaming of, he taught me that extended trott has nothing to do with pushing them forward but develops slowly from behind and simply carries you away – he taught me how to sit flying changes in canter and how to ride a pirouette. I was simply greatful. All that came along with the best character you can imagine: we would ride out for walks and my friend would sit on her 4 year old mare who tended to behave little undisciplined – beltain was peace and happiness in itself. Far away from any behaviour you would expect a breeding stallion to show when ridden next to a mare. I was more than greatful – again. Still, i was one of a very few lonely believers since the official "westfalian" opinion on beltain predominantly none existing to say the least.

My friend svenja and i had already bought Wallery K from the Karsten family when Beltain had died his tragical death in 2002. It was more than clear to us that should the frozen seman of Beltain not last long enough to breed Wallery to him any futher it would be Brentano II, who is bloodidentical to Beltain, who should become the sire to our future foals.



"Beautiful Belissimo" by Beltain x Romadour II, at the Warendorf Bundeschampionship 2005 - "the Champion of the Hearts" who truly lost Gold and thus won Silver...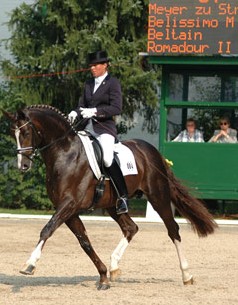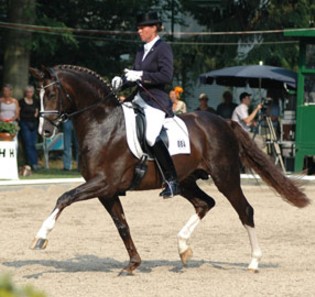 pictures: Tanja Schönfelder