Deauville * 12.4.2011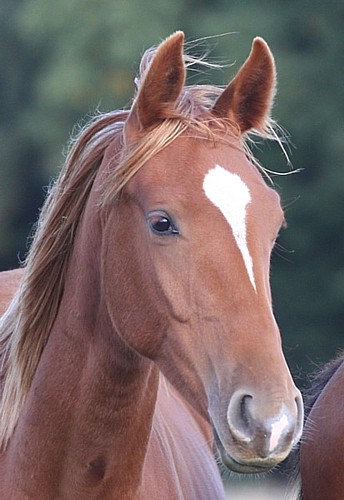 Donnerwetter Oldbg.*1977
Donnerhall Oldbg.*1981
Ninette Oldbg. *1976
Don Schufro Oldbg. *1993
Pik Bube Oldbg. * 1973
Fiesta Oldbg.* 1976
Fabia Oldbg.* 1974

Florestan Rheinl. *86
FidermarkWestf. *92
Watonga Hann. *85
Fannie Mae Rheinl. *03
Frühlingsball Westf. *70
Feodora Rheinl. *91
Rebecca Rheinl. *80






Damline:
Fannie Mae was nominated "Premium Foal" at the foal inspection Heinsberg, July 2003 - Silver Medal
MPT Telgte, June 13th, 2006 - placed 2cd out of 20 mares scoring 7,97
single scores: trott 8,0 canter 8,5 walk 7,5 ridability/judges 8,0 ridability/testrider 8,5 freejumping 7,5
Fannie Mae is the 5th and last out of 5 full siblings by Fidermark, all of them were nominated "Premium Foals" , amongst them auction foals.
Full Siblings to Fannie Mae:
Fair Play*2002 Champion of the Rhineland Ridinghorses 2005
Fabrice*1998 MPT Telgte placed 1st out of 21 mares scoring 8,39
single scores: trott 8,5 canter 8,5 walk 8,0 ridability/judges 9,0 ridability/testrider 8,5 freejumping 8,0

Fannie Mae's Progeny:
2007 Sansibar - licensed stallion by Sir Donnerhall - sold as a stallion prospect to Paul Schockemöhle
2008 Sawadee - filly by Sir Donnerhall - Oldenburg Premium Foal - sold to the Netherlands
2009 Riva - filly by Rohdiamant (not for sale)
2010 Rialto Venice - colt by Real Diamond - sold as a stallion prospect
2011 Deauville


Sireline Information: Why Don Schufro?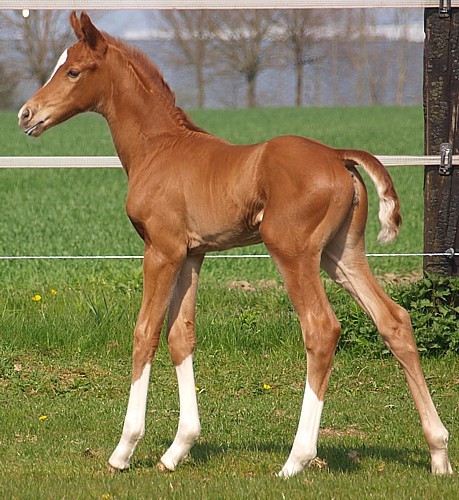 This is by far the hardest part I have ever challenged translating the website of one of my foals to english: Reason it took so long for me to finally put up this page in english...
Why?
Because Deauville is the most challenging foal one of my mares ever delivered and it is hard to find the right terms for that in a foreign language...
But let me start from the beginning:
Late tuesday night Fannie gave birth to her fifth foal. And since Fannie is the most jealous and protective mare when she has a newborn foal by her side she lets noone near her at these very moments. Usually it takes a day for her to calm down and become good old friendly Fannie again.
Nothing wrong about that - we know her and we respect her attitude. This is how she would have to defend her foal if it was born in wild life. Horses are animals led by their insitinct - Fannie's instincts are leading her.
Good for her.
So we watched the two of them from the video inside and while it didn't take her little daughter long to manage to stand up it sure was a bigger deal for her to make it to mum's udder. Evenmoreso since Fannie's udder was blown up like the udder of a milk cow (as my mare barn owner Ingird stated correctly), I have never seen a mare's udder of such size. And it sure must have hurt her big times given the pressure on it. The longer the filly took to find the udder the more Fannie turned anxious. We finally decided to make an end to this little drama and calm Fannie down, so the filly had a chance to find it's naturally given target - and how the little daughter appreciated our aid! She drank as if there was no tomorrow and you could see Fannie calming down immediately with the pressure off her.

The rest of the night was a good nigth's sleep for everybody involved and at the next morning the world already looked completely different:
Little Deauville danced around her mum and the udder had become her best friend.
At first sight the night before I knew her name was Deauville - french noblesse and the little red nose always high up - all that paired with some instinct appearance of untouchability.... how right I was!
And it was already quiete obvious, little Deauville was a character of her own kind!
Milk not running fast enough out of the udder?
"Bang!" she kicked out anxiously.
Not running fast enough from the other side, either?
"Bang! bang!" little explosions evolving from her hindlegs...
And Fannie would simply stand her daughter's explosions in serentity.
Good girl!
A tender touch from a human hand or an ordinary housefly swirring round her nose?
"Bang! bang!"
She made her nick name come right up into my head all by herself:
"Little red anger!"
And it truly suits her!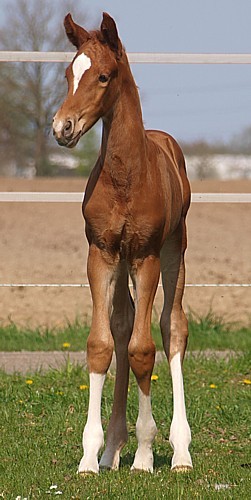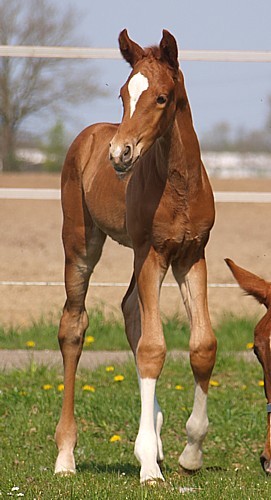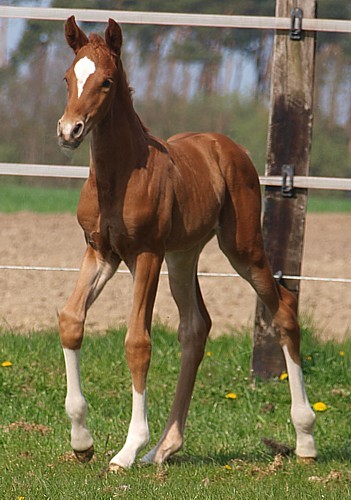 Sunshine had it that the first walk out to the big unfenced hay pasture came soon and mostly relaxing - Fannie stuck her nose in the green grass and little Deauville explored her hole new world. My first time too, to really watch and gather this filly in it's entire presence - what a foal!
Melting charme and beauty and incredible fleetfootedness, perfectly shaped angles and muscle parties given to her just by nature - simply stunning!.
The little red nose always seeming to approach the sky and the rest of the foal simply following the high up nose.
She doesn't trott - she dances, following her high up nose, it seems.
This is what you consider an uphill tendency of move. Deauville performs it at its best.
Noblesse oblige.
And I couldn't get my eyes off her.
These first days, when I would lead Fannie to the hay pasture so the foal could run around with no fence limiting her, surely served the most precious impressions for me: how her little daughter would speed around in the deep green grass, bucking against the wind in the sun, galopping in wider and wider circles around us and all of a sudden coming to stop right in front of us, not sparing the final bucking jump to finally come to halt and search for mum's udder - simply amazing, and so full of spirit and life!

The next day my friend Tönne came visit and Tönne is a horse whisperer through and through. You leave him alone with any given horse and he simply does his magic. Fannie was standing in the stall with her little daughter and when Tönne came to put a halter on Deauville in his horse whisperer's sing-sang Deauville shivered in anger and all of a sudden started to virtually step-dance in Tönne's arms - and he didn't even hold her firm, she could have run away if she had choosen to but she simply freaked and piaffed in his loose arms as I have never seen it in a foal before. Incredible!
Tönne and I truly tried hard not to laugh out loud to disturb this unique performance given to us by a filly of a few days age... what a character!
He finally took off the halter and she would still stand near him until she realized that nothing was holding her at all and than she exploded and bucked off and away through the stall, the little red nose high up - Madame Deauville.
"Noblesse oblige" in the most special manner.
What a foal.


21. August 2011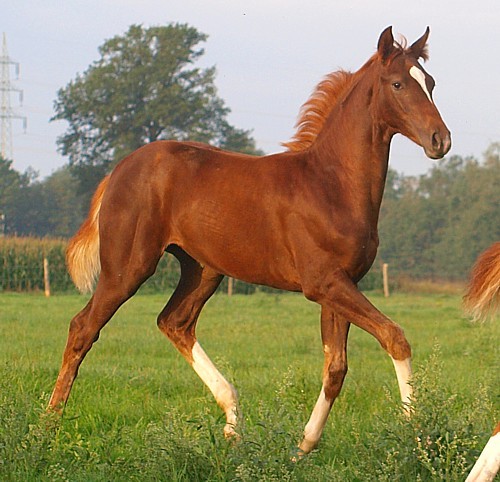 18. September 2011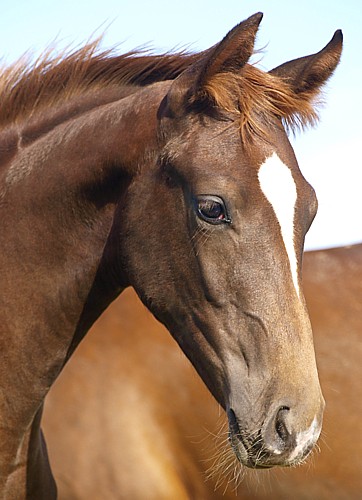 30. September 2012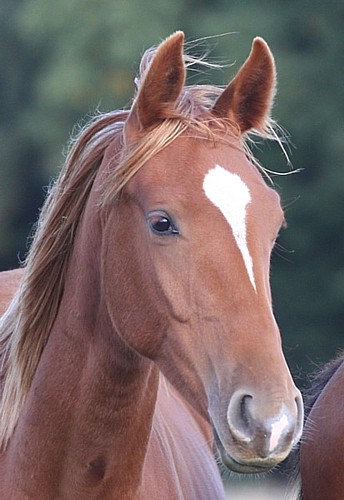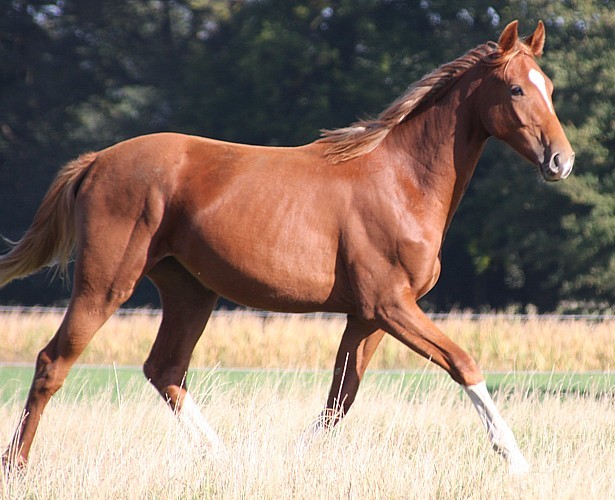 Fotoalbum Deauville

home