sunday morning, departure münster 8:40
half past seven (still under the shower) thinking to myself: oh well, should be fine to leave around 8 o'clock... suddenly I realize: you have to go to the AIRPORT, not to the train-station......
grapping my one big bag of luggage and hopping into the car is one single move - chasing all the way to Greven airport takes 20 minutes - approaching the first long-time parking - full! passing by the next one: full, too! Jeeeh, what is this? rushing into the parking-garage - first deck: full.
second deck: full.
pants full, too.
Finally I find a spot up on the furth deck and can't believe that our beautiful little airport is SO busy - thought we lived on the countryside??? the lady at the check-in counter doesn't really buy my story of being late having thought I needed to go to the train-station in the first place - can't help it. far too late to check in luggage, so I am allowed to take my stuff personally right on to the maneuvering area in front of our plane. thank Godness for countryside airports!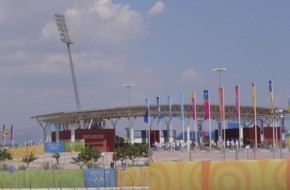 the horsetrailors of all the foreign equestrian equipes are still parked at the maneuvering area. – anybody ever doubted Münster wasn't the heart of the world?
arrival at Athens airport on suday afternoon, eazzzzzzzie, all those worries the greek weren't capable of handling more than 500 engines a day were completely unnecessary. meeting Klaus and our 3 fellow-travellers isn't a problem either. we hop into a cab immediately taking us to the equestrian center - tuns out that Widfall is supposed to be starting even today at 6 p.m.
first big shock at the ticket counter: big sign stating "sold out!" that is most ridicoulous as it is obvious that the entire equestrian center is widely empty. not a sruprise, really, why would anybody ever want to watch eventing dressage, anyway??
mega discussion with the poeple at the ticket counter at cross-purposes - they don't speak any english, we don't speak any greek... finally we are in and Windfall proves to be a real highlight after all those less than average rides. at the end of day one Darren and Windfall rank fourth, Bettina Hoy is in the lead - which was widely expected.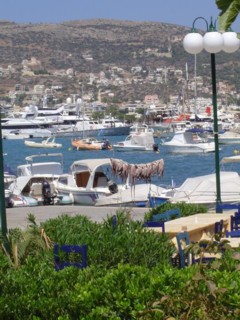 and than we are up for the "odyssee" part one: shuttle to the airport, half hour, walking all across the airport (another 15 minutes) to catch the shuttle to Piraeus harbour, oneandahalf hours... and than, piraeus harbour - where ARE they, those ferryboats that according to the internet serve Aegina Island every hour???
big eyes.
where did you get that from??
that's what the interenet says!
oh, really?
really!
hm. why would it say so?
what???
well, these boats never go every hour....
us: well, maybe because of the Olympics...?
- oh - really?
turns out:
there are two ferryboat carriers, one that goes every hour but only during day-time, last boat left at 8:30. the other one which is the big commercial ferry that all the ancient greeks use to carry their chickens and mopeds up onto athens marketplace travels at 1:15 a.m 6:15 a.m. 1:15 p.m. 4:15 p.m. an takes two hours one way....
welcome to the Athens of the present.

big fortune, the 9:30-ferry is about to take off just now. at sea we hear: this boat is not going to land at Aegina Marina but only at Aegina Port. two different harbours at opposite sides of the island. needless to say: our accomondations are located at the opposite side...
ohwever, that wouldn't be problem as they say since there are always taxis and those take twenty minuutes to cross the island.

hah!
this information is as usefull as the internet information about those hourly ferry boat carriers... meanwhile, however, some of the domestics have realized that on the mainland olympic games are taking place and they truly consider to maybe launch the commercial ferry at 9:30 p.m. even on mondays... (usually the latest of these boats leaves at 8:30 p.m. on week days). We are supposed to be calling in tomorrow during office hours to check if a later boat is being employed. eazzzzzzzzy, given our fluent greek language... and it wouldn't really solve the matter entirely, either, since we would again be landing at the wrong side of the island but the only alternative would mean to be taking the last passanger boat at 4:30 p.m. and we will never be in time to catch that one. as we are not really keen on having to take the commercial ferry at 1:15 in the middle of the nicght, either...
epic voyage, that is.

we arrive at Aegina Port an, a most beautiful dreamy island town with a pictorial old harbour - simply beautiful!
but it is 10:30 at night and our arms are getting longer and longer from carrying around our luggage and the sense for ambience is not really pronounced. we want a taxi!
and yes, there is a taxi stand and it is highly frequented. however: it is in short supply of taxis. some of them are only recognizable by the time they have already left again - since those cars are from the 1950s, partially working on three wheels only with no cab-signs attached, continuous seatbenches inside to seat three poeple in front and most advantegous drivers. and the latter often simply refuse to take the trip to the other side of the island since it is "too far" or "nix marina!" and it takes another 45 minutes until we find someone who is willing to take the five of us even in one lot. around midnight we finally arrive in our spartanic accomondation. fluent water, not always, but most of the time, and often even warm. therefore the entire thing only costs 70 euros per night... per person, that is.

doesn't matter, just sleep. since we will have to get up by 6 a.m. in order to take the commercial ferry that indeed leaves right in front of our street and arrives at Piraeus harbour at 8:15 a.m. passing by the Queen Mary II who is anchoring there providing a completely new definition of the concept of size: right next to it is a high-rise building. if you were to lay this building on its side it wouldn't even partially cover the hull of the Queen Mary II.
than switch into the shuttle bus to the airport, passing by the five candy coloured brand new olympic stadiums, oscitatntly empty. the greeks really seem to not care about the olympics. at the airport switching into another shuttle to the equestrian stadium and finally getting there by 10:30 a.m. at the airport we bump into michael (klimke, ingrids brother) who wants to meet his sister and he was rejected at the equestrian stadium given he had run a private car - since private cars are completely out of bounds for any visitor, thus he had to take the detour via the airport, too, in order to catch the official shuttle from there. he is about as enervated as we are and we have a lot to talk to each other!
odyssee is a greek word - i lived it...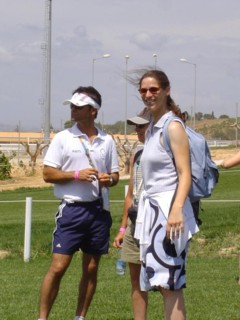 <![if !supportLineBreakNewLine]>the second day of eventing dressage, the highlight at noon: Darren, Windfalls rider, will walk the cross with us. if you consider it a highlight to walk a 6 km cross in greek desert heat at noon from 12 til 3... however, i am well acclimatised, the sun is my friend and i can stand heat a lot better than cold, no problem. the cross is superb, wonderful thick grass ground<![endif]>, optically inviting fences, a few of those I would even dare to take with my Shannon. I meet on Ingrid and ask her if I imagine this correctly or if this cross really doesn't seem to be too demanding. she says: no way to compare to Sidney. eazzzzzzie. Sidney was 3 minutes longer (which is a huge difference given a 9-10 minute cross) and specially the water- and deep-down jumps were significantly steeper. Ingrid is the last competitor to start in the dressage today, 6:30 p.m. and of course we want to see her ride Sleep Late. but than we will have to really rush on in order to catch our shuttles to reach the harbour ferry in time for 9:30. in the afternoon we have asked our friend Kerstin's father in law who is greek to call the ticket counter of Piraeus harbour to check if they meanwhile figured out if there will be a 9:30 ferryboat. aren't we smart! (since these poeple not necessarily speak english if you need them to...). than the big discussion to plan for tomorrow morning:
the cross starts at 9 a.m. and this is the main event we came here for. our home ferry disqualifies immediately since it wont get us here prior to 10:30. now the big challenge is: how do we arrange at night (around midnight) on a an ancient greek island were time stopped passing by about 50 years ago for a taxi to pick us up in the morning at 6 a.m. to reach the first ship leaving the island on the opposite side?
it takes until 3 a.m. in the morning to arrange for this.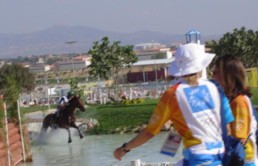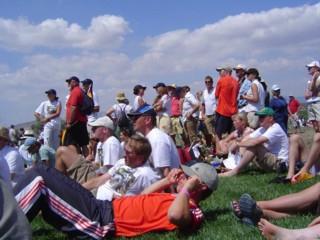 at the next morning the cross: lunacy, highest spirits, la ola waves, celebrating heroes, one shiver chases the other up and down the spine, the enitre german olympic show jumping team is here, father Ehning bums around my backpack thinking it was his, only the dressage equipe isn't to be seen (they already sit in the cellar sharpening their swords...). half of Muenster and Warendorf run into me and the euphoria is alive and unlimited. even more so since our german team didn't even get to qualify propperly in the first place but had to take the chicken-way via the world ranking list - and now such a contingent of fans and camp-followers! as they admit themselves: they have never experienced such spirit and temper at any championship before! I am likely to believe it.

with each starter you know in person tears are in your eyes, every fence is being celebrated frenetically in the deep grass in front of the huge screen and once they gallop by directly you hear those rythmical battle cries from of hundreds of enthusiastic fans - absolutely amazing! when Frankie Ostholt comes by poeple freak out:" ossi ossi hoy hoy hoy!" - all accompanied by the big wave all over the crowd. and he rides as if the devil was after him and when his horse at one point nearly clings to one of the fences (they really got lucky, his horse kind of stumbled in the air but got its legs resmebled quick enough) poeple cry all at once and than you hear the collective sigh at the relief out of all those throats.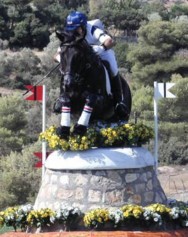 than Windfall comes and he is purest eye-candy. he briefly struggles at the same spot that later on Ingrid will fall off Sleep Late but Darren is lucky and stays in the saddle. to watch this beautiful horse taking the cross with so much expression is purest goose skin feeling at its best. when Hinni (Hinrich Romeike, who later on in front of all the media begs is passionate appelate at the NOK to simply provide for two gold medal rankings) later on tries to anonymously mix up with the audience (having had a clear round in time directly after Bettina had already been the first sensation for the german team) a sheer roar goes through the crowd, they take him up their shoulders and pass him on through the entire audience - tears of joy, incredible!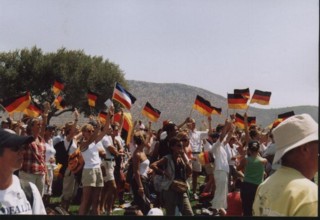 the germans are completely out of control.
the americans are staggered.
the english anyway.
the french are piqued.
has anyone ever seen that before?
than Dibo comes (Andreas Dibowski), he delivers a clear round as well and completes the sensation to being perfect. when has this EVER occured before? - the germans coming out with FOUR clear rounds off the cross? taking the lead in front of worldchampion France, England and the US - and Ingrid hasn't even started yet!

than Ingrid, again last starter and the most spectacular course is well known - downfall, climbing back into the saddle and finishing at fastest time. complete hysterie amongst all the camp-followers. collective bluster.
incredible.
all of us had shivered after the downfall at each following fence and the stomach puckered up: that was hara-kiri and extremely dared.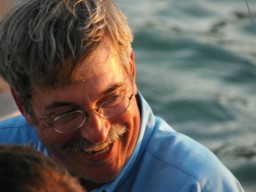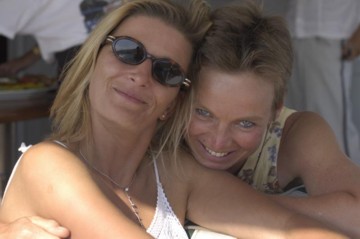 than the absolute highlight for us:
Tim is sending his driver to take us to the yacht. splendid! what a contrast to our life at the airport Mcdonalds the last couple of days. finally: holiday!
what a day. Darren is there and brought his mum and brother but he is not overwhelmingly happy - despite a clear round only ranking 12th and far out from the medal ranks. understandable.

but still. the olympic goal has been reached. this is what the horse has been bought and trained for over the last four years - what a horse! Tim is excited. the spirit on board simply magnificent. everything fits: the sun, the wind and the sea. and the most delicicous food - our backpackers life of the last couple of days couldn't be of any stronger contrast. relax. enjoy.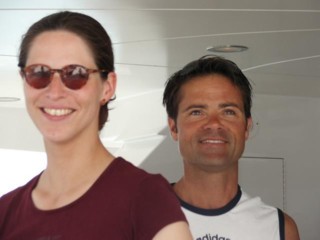 it is the last night for me. maren and I have an appointment at the airport the next morning, we want to go to the Acropolis to enjoy at least a little of Athens at all. Tim's driver is taking us back to the harbour (purest luxury not having to do the shuttle-hazzle) and the shock follows right away:
the last ferryboat is booked out!!
there is a waiting list, though.
the problem:
they can't read their own handwriting anymore and don't know how those names read on that list... everybody claims to have his name on the very top of that list of course. titanic-alike tumult at the pier. everybody knows, capacity is highly limited and all of a sudden everybody claims to be sick, pregnant, in need or somewhat handicapped... incredible chaos, anger, dispair. that just doesn't work at all. so is how it must have been on the Titanic. my stomach crambles. suddenly teh captain steps on the footbridge and raises his hand silently. rien ne vas plus. all seats taken. i stand in front of everybody else still wearing my party dress and look at him from down the pier into his kind face and ask: isn't there a tiny little place left for a single person? he looks at me from upside the bridge, makes a move with his hand and says: come in! I don't trust my ears, and before I can think any further i find myself in the captains pontoon bridge squeezed on the hatrack. here I am, gateful about my fortune... at sea he looks at me one time and asks: is everything fine? I am nodding blessedly.

and than -double fortune!- the annoying taxi-search at the island harbour: i scream into the crowd: anybody care for the marina? three guys turn round and go: Yoh! me: care for a share? and off i was, squeezed again into one cab with them, irish folks, their brother is part of the irish oarsmen olympic team and these guys are real fun. plus, i have never made it to the other side of the island so quickly! and by the way: ANY olympic guest I meet seems to have a brother, son or somehow else related person who is part of one of the olympic teams. that's why they are here. the greeks themselves rather watch the games onTV. <![if !supportLineBreakNewLine]>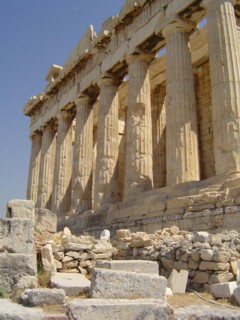 next morning: packing the travelbag and taking the 6:15 ferryboat to piraeus. 9:00 airport, meeting Maren, Terry and sisters and we are encouraged enough to take the metro. so far one was only told scary stories of horror about the metro: metro broken, trains having accidents, passangers being taken out, having to walk dark tunnels through the catacombs etc etc. turns out: the greek are poeple like the rest of the world - and quiet like the westfalians, too: if it is strange and new better be aware of it and avoid it if you can... <![endif]>
the metro system is brandnew and thus being looked at highly sceptical. it might take a couple of centuries until they reckon that taking the metro is a lot faster and more convenient than having to take the bus ... the Acropolis is wonderful - ancient history alive. if you are a friend of having to climb greek mountains at 40°C at noon between 12 and 2 p.m. ... again: i feel "happy as a clam" in the heat, as always there is a nice breeze blowing and the charming company adds to a perfect day. the sisters give in to their fortune and even suggest voluntarily to visit the museum up on Acropolis mountain:
i soon realize what the reason behind that is: the building is fully airconditioned...
some time later we take the metro back to the airport, the others return to the equestrian center to watch the unfortunate show jumping, the tragical course is well known and often been discussed (Bettina Hoy crossing the starting line twice, thus jeopardizing the team's gold medal).

I am sitting in my plane completely relaxed approaching my provincial westfalian homeland and realize:
from Münster to Athens is just a stone's throw (unless you accidentally tend to take the way to the train station in the first place) but from Athens to Aegina Island and to the equestrian center from there is a journey round the world which needs to be very thoughtfully considered.


more pictures of Athens