Wallery K St.Pr.St. *1991
Breeder: Hans Karsten, Münster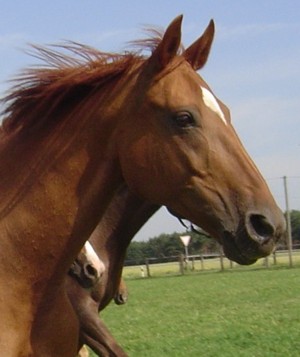 Wagner Hann.*197
Wanderer Hann. *1980
Genua Hann. *1973
Wandervogel Hann. *1985
Goldstein Hann. *1973
Goldina Hann. * 1981
Kurtraube Hann. *1973

Black Sky xx VB *1966
Bolero Hann. *1975
Baroness VB *1970
Be Better. Hann. *1986
Grande Hann. *1958
Goldperle Hann. *1974
Ferbel Hann. *1968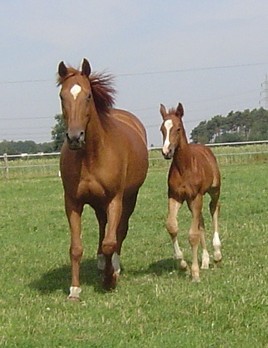 Wallery K descends from one of the most prestigious, - if not THE most prestigious - damlines of traditional hannoverian breeding: the damline of Dr. Max Schulz- Stellenfleth. This damline produced not only the licenced stallions Brentano I and II, Garibaldi I and II, Wolkenstein I-III and Beltain (sire of Belissimo). Dr. Schulz-Stellenfleth also bred Little Big Man by Lauries Crusador xx, successfully competing S-dressage with Falk Rosenbauer and the olympic horse Beauvalais (Beatrix Ferrer Salat, Spain) from this damline.
To understand the full value of this damline have a look at this graph.

Wallery K attended at her mare performance test in 1995 and was awarded the title State Premium mare in 1998.

Wallery K has given birth to five foals by Beltain so far and it was the quality of these foals in the very first place that convinced my friend Svenja and myself (Wallery belongs to the two of us) to buy Wallery and continue breeding her to Beltain.
Beltain was also owned by Hans Karsten who had acquired him from Dr. Schulz-Stellenfleth, as he had done before with Be-Better, Wallery´s dam.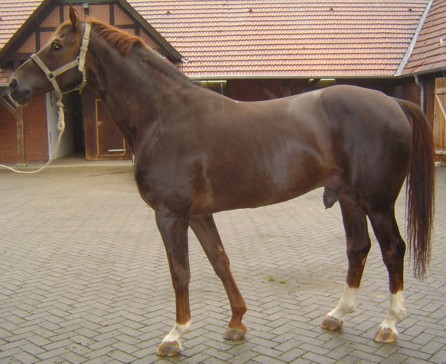 Since after his death in 2002 Beltain was not available for frozen seman anymore, there has always been one single alternative to him that Svenja and I considered worth breeding Wallery to:
Hannoverian State Stud stallion Brentano II, who had also become hannoverian stallion of the year 2003. Brentano II is bloodidentical to Beltain, both their dams, Gänseliesel and Glocke have been full-sisters.

After a sad abortion in March this year our Wallery is now being in foal again to Brentano II and we are all waiting with the best of hopes for a healthy foal in May 2006. When I picked her up from the Artland stallion station in Ankum I asked if they would kindly show Brentano to me - of course they did. In the proud age of 22 years this stallion presents himself agile and alive - you really can't tell his age by looking at him! The similarity of Brentano and Beltain is amazing and most obviously to be seen on the fotos of both stallions.

Brentano II in July 2005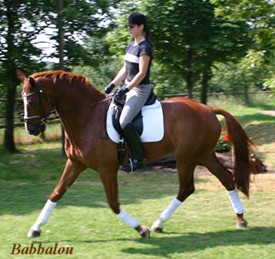 Wallery's foals by Beltain:

- 1998 colt Babbalou
- 1999 filly Belle Grande
- 2000 colt Bobbilano
- 2001 filly Be Happy
- 2003 colt Beltino

Babbalou steps into his sires footprints and was sold to Jo Hinnemann for further training when he was five.
We are more than confident that we will hear about Babbalou in the future given his prestigeous trainer.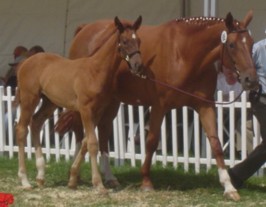 Belle Grande was sold as a broodmare and my idealistic ideas to breed her would always have included a Lauries Crusador xx - son. according to the motto: consolidating traditional bloodlines and adding the necessary thorough breed blood via Lauries.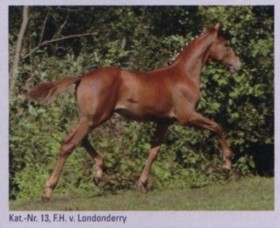 So I was more than pleased when
I heard she had been bred to Londonderry and the colt from this combination qualified rigth away for the Westfalian auction where it was sold as a stallion prospectus to a stud farm.
This year again she has a colt walking next to her, by Laudabilis this time. Laudabilis is blood-identical to Londonderry within the first three generations. This colt was already ranked o´n the premium ring at the recent foal inspection at Beckmanns.
The Theorie of "proven to proven" seems to be working well! Even the westfalian stud book inspector knew to tell what a great broodmare Belle Grande was - sometimes you'ld only be surprised...

update March 2006:
Belle Grande's colt by Londonderry (picture right), Wallery's grandson, has now become a State Stud Stallion in Warendorf named "Luminatus".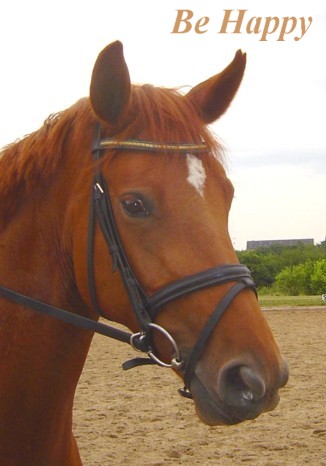 Bobbilano also stepped into Beltains footprints and was sold to Grand Prix rider Petra Epping. I think it really speaks for Beltain to see his offspring return to his own former trainers in order to become their future Grand Prix horses...

Be Happy will stay at the Karsten's family and hold up the heritage of her sire, Beltain.
Beltino will of course stay with Svenja who can't wait to finally get to ride him.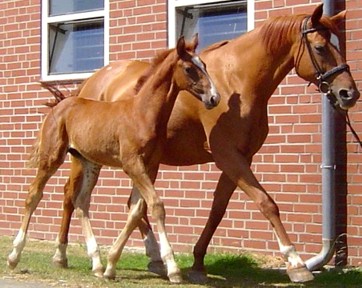 Finally, in May 2006 Wallery gave birth to Brasil.by Brentano II.
In June, Wallery was confirmed positively in foal to Brentano II again.
In May 2007 Wallery died upon the birth of her expected foal by Brentano II - it wasn't meant to be.

Having to let her go made me cry - as Wallery had meanwhile become a beloved horse to me and even more so, she was close friend to Fabrice. My mare barn owner Ingrid often made fun of me when I came to turn Wallery and Fabrice out on the pasture together. She used to say:
"Sabine, looking at you taking out your mares is hysterical!
A big chestnut belly waving to the right, another big chestnut belly waving to the left - and in between the two of them skinny Sabine is marching along completely unimpressed and all content..."
She always made me smile when I heard her say this.
It won't happen ever again - Wally is gone.

Later in summer 2007 my friend Svenja asked me if I wanted to take Wallery's son Beltino out on an eventing course just to see how he would do (he was barely trained under saddle at all). I was overly delighted by that offer and enjoyed riding the immature and barely trained Beltino. These pictures were taken at this occasion, showing Beltino and me at his very first water experience and small cross fences - what a pleasure!
And I am looking at these pictures with plea and sorrow at the same time:
Without Wallery my hopes have come to an end to ever develop my very personal little mare family from this prestigous damline.
Without Wallery no more Beltinos and Brasils for Svenja and me.
Without Wallery there had been no Beltain for Svenja and me, either, and most certainly no Belissimo for the world.
Without Wallery we had never discovered the value of a true stamp stallion like Brentano II.
Without Wallery the world had been a competely different place.